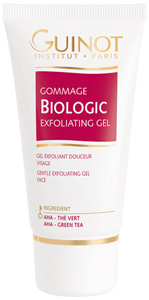 Biologic Exfoliating Gel
Natural exfoliant with gentle fruit acids

TARGET BEAUTY
Removes dead cells through its gentle keratolytic action.
A gentle and effective "peeling" treatment.

ACTIVE COMPONENT
Natural fruit acids exfoliate the skin and activate cell regeneration

DIRECTIONS
Use once or twice a week.
Massage until it turns into oil.

TEXTURE
Gel

THE ADVICE OF THE EXPERT
Can be used on sensitive areas: the contour of the eyes and lips.
$ 42.00