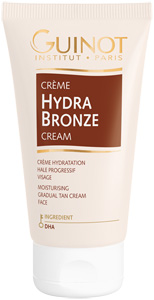 Hydrabronze Cream
A touch of summer colour for your face

TARGET BEAUTY
Gradual Moisturising Tan Face Cream
- Provides a gradual, even and natural glow
- Moisturises the skin
- Illuminates the skin and makes it look more attractive

ACTIVE COMPONENT
DHA: gradually tints the skin for a naturally tanned look.
Erythrulose: gives an even tan.
Hydrocyte Complex: moisturises the skin.

DIRECTIONS
Apply to the face 2 or 3 times a week depending on the desired result

THE ADVISE OF THE EXPERT
To obtain an even tan, use an exfoliating product on the skin before applying. Can be used alone or before a serum and/or a moisturising cream.
$ 42.00