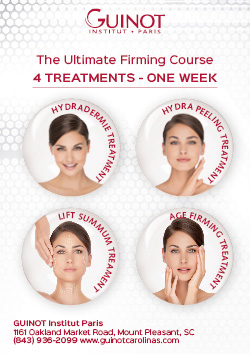 The Ultimate Firming Course News valid until 07/08/2019
The Ultimate Firming Course: 4 treatments - one week apart as follows:

1st - Preparing the skin with an ionization and oxygenation of the skin layers to increase absorption of the pro collagen oinments (Hydradermie),
2nd - A Hydra PH Peel (exfoliating, anti-aging & dark spot treatment) or a Hydrabrasion Peel (for more sensitive skin), followed by the Hydra Neuve regenerating massage and soothing mask.
3rd - Guinot's new Lift Summum Treament to restore and boost collagen, to restructure elastic Fibre and stimulate hyaluronic acid synthesis. This will smooth the skin, reshape the face contours and firm the neck and decollete.
4th - An anti-aging drainage, followed by a Facial muscle stimulation treatment (to maximize the firming effect) and ending with a relaxing massage & serum.

This 4 Facial course is offered at $365!