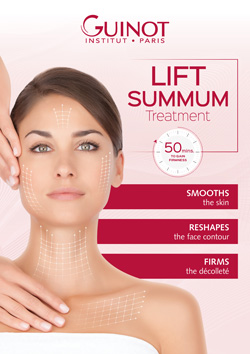 The Ultimate Lifting Course News valid until 07/08/2019
3 Lift Summum treatments - one week apart.

This firming cure involves a skin gommage, a unique combination of lifting maneuvres and wrinkle eraser, specifically designed for the face, neck and decollete, a unique filler and firming cream.
This regimen insures maximum impact and duration of the effect of the Lift Summun Treatment.

This treatment is offered at $335 and includes a $30 rebate toward the purchase of the new Lift Summum Cream.